Connect with key commercial players in the UK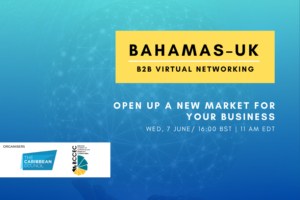 Join the Bahamas Chamber of Commerce and Employers' Confederation and The Caribbean Council on Wednesday, June 7th at 11 am for a unique opportunity to network one-on-one with members of both organizations as they prepare in real-time to maximize new commercial opportunities.
The Bahamian economic overview is mainly dependent on tourism, hospitality and financial services.  These sectors have traditionally attracted most of the Foreign Investment (FDI), and new investment is currently encouraged by the government.
Financial services, including a growing cryptocurrency sector, is the second most important driver of the economy, accounting for 15 percent of GDP.  The government has targeted investment in light manufacturing, technology, agriculture, fisheries, extractive industries, and renewable energy to diversify the current economy.  The Bahamas is committed to digitizing business services and encourage domestic productivity through small and medium enterprises (SMEs). The pipeline of investment proposals has increased in the last two years and Bahamians look forward to a GDP growth with significant improvement in the next two years.
The economy of the United Kingdom (UK) is highly developed and is considered one of the largest and most globalized in the world. For most CARIFORUM countries, including The Bahamas, the UK is a major trading partner. The CARIFORUM-UK Economic Partnership Agreement will ensure quota free duty-free preferential access of goods from CARIFORUM States into the UK market continues. It also allows the services and investments of CARIFORUM Member States preferential access into the UK market.
Don't miss out on this opportunity to connect with key commercial players in the UK, and to gain market insights. Join the mixer on Wednesday, 7th June at 11am. Follow this link to register: https://bit.ly/3I1z3Yu
About Caribbean Council
The Caribbean Council is a long-established trade and investment membership organization which supports responsible and sustainable private-sector led investment and development in the Caribbean, Cuba and Central America.