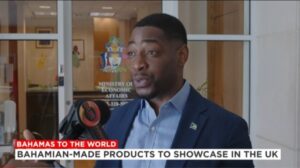 The Bahamas Trade Commission is looking to create an avenue for local entrepreneurs to display their products on an international stage. Commission Deputy Chairman telling Our News local entrepreneurs can apply to have their luxury items displayed with Harrods.
Bahamas Trade Commission Deputy Chairman Barry Griffin says the once-in-a-lifetime opportunity is in partnership with the British High Commission.
Griffin says he often times meets local entrepreneurs who say they just need the opportunity. He believes this is that chance.
Griffin says one of the government's goals is ensuring Bahamian exports increase.
He says the trade opportunities won't stop here.
If you have a luxury product send an email with your product to trade@bahamas.gov.bs by April 21st and state your interest in being a part of the showcase.