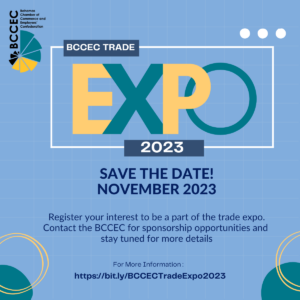 The Bahamas Chamber of Commerce and Employers' Confederation (BCCEC) is pleased to announce the return of its annual Trade Expo this November 2023 in partnership with Access Accelerator, Small Business Development Centre (SBDC). The goal of the expo is to showcase the goods and services offered by the private sector in order to strengthen the local business community, improve the economy and enhance growth, and help businesses reach new markets.
Reasons to exhibit with us
Trade shows have been a crucial sales and marketing tool for centuries. They allow businesses to showcase their goods, disperse knowledge and talk about industry trends in a tailored environment.
A trade show is a gathering of businesses (exhibitors), professionals, business representatives, and consumers that come together in a specialised venue to exchange knowledge, products and services and make connections with other like-minded professionals.
Exhibitors will be given a space to exhibit, and it's their job to connect and engage with the visitors at the event. Ideally, they'll generate leads, network and hopefully close a few sales (although it's not always easy!).
Trade shows are useful for businesses or 'traders' because they can spread knowledge of their product and connect with prospects in an organic setting that's tailored to them and their audience.
Make sales – the golden ticket to trade show success, hitting a quota or making direct sales is the ultimate definition of winning.
Capture leads – without leads salespeople have nobody to convert, so generating enough leads for your marketing funnel is a must.
Analysing the competition – what technology are they using, what marketing angle are they taking? It's good to know what the competition is up to, but don't make it all about them.
Engage with existing customers – existing customers are more likely to invest in new products and services, so you can keep building relations and offering them more benefits.
Introduce new products/services – new and old customers could benefit from your new product. Still, you'll have a better idea of what current customers suit your new addition.
Account-based marketing – go into a trade show with an idea of who you'd like to speak with, so you can create a strategy that's more likely to convert them.
Gather feedback – feedback is how you improve services and sales and marketing; you could receive advice that revolutionises how you do things.
Spot trends – spotting trends is vital if you want to stay relevant or avoid something that's a flash in the pan.
Register your interest to participate
Let us know that you're interested in participating in this year's BCCEC Trade Expo by clicking on this link>>https://bit.ly/BCCECTradeExpo2023
Source: Unique Exhibitions