Trade can help to grow and diversify the Bahamian economy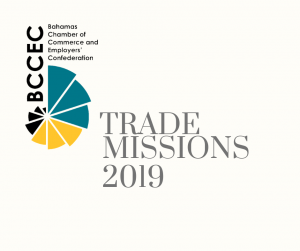 The Bahamas is moving toward greater participation in the world trading system at both the regional and international levels. In fact, the nation is positioned to become a full World Trade Organisation (WTO) member by 2020 and since 2008 has been a signatory to the EU-CARIFORUM Economic Partnership Agreement (EPA). Membership in both trading regimes, if maximized, has the ability to grow and diversify the Bahamian economy.
It is against this backdrop that the Bahamas Chamber of Commerce and Employer's Confederation (BCCEC) will spearhead a series of international Trade Missions in 2019 in order to seek opportunities in export (both goods and services) and investment for the private sector. In many instances, the missions are being organized in conjunction with the Bahamian public sector.
Trade missions will offer participants unique opportunities and benefits
The BCCEC CEO or senior Chamber representatives will lead the missions that will offer unique opportunities and benefits to participants. These benefits include:
access to economic and government decision-makers
on-the-ground support from the BCCEC's network and partners
networking opportunities with the local business community
business-to-business meetings with potential partners
opportunities to create export partnerships
The 2019 schedule proposes visits to four countries
The 2019 schedule proposes visits to four countries throughout the North American, Asian, and the Caribbean and Latin American regions. A Nassau based International Trade Expo will also be organized, primarily, for Bahamian businesses to showcase their products and services.
The missions will generally take place within a one week period and participants will learn about doing business in the host market and gain exposure to the social and business cultures.
The structured program may include:
business briefings
market and sector presentations/discussions
networking events
business-to-business meetings
face-time with government officials
site visits (when possible)
participation in a trade showcase/expo (when possible)
Register your business for an upcoming trade mission
If you are part of the Bahamian business community, contribute to The Bahamas' economic growth, have a demonstrated capacity for internationalization, and have good potential to add value to the Bahamian economy, you can participate in a Trade Mission.
Generally, interested companies must register for a specific trade mission and will be screened for suitability based on the objectives of the mission.
Download the Trade Missions Schedule for 2019 for more details and/or contact the BCCEC at 322-2145 for more information.