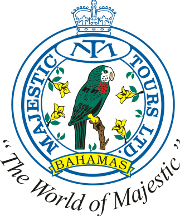 Majestic Tours received the 2018 Quality Assurance Award from Delta Vacations during the company's annual travel agency educational and networking event, held on September 23, 2018 in Minneapolis, Minnesota. This makes it the 10th consecutive year that Majestic Tours received this honor.
Delta Vacations honors qualifying companies each year
Delta Vacations created the Quality Assurance Award program to recognize the company's top partners providing outstanding quality, customer experience and product delivery to its mutual customers. Each year, the company honors qualifying hotels, destination management companies and rental car agencies across the globe, out of more than 5,000 partners offered by Delta Vacations. This year, Majestic Tours was among an elite group of 251 hotels, 22 destination management companies and four car rental companies that earned the award designation.
"As a company, customer experience is paramount," said Elizabeth Moriarty, Delta Vacations vice president of product development. "We cherish our partners who go above and beyond to ensure that our mutual customers have the most memorable vacation experience possible."
To be eligible for the award, partners must have achieved (on a per property basis):
• 99 percent customer satisfaction;
• 99 percent product performance (no involuntary relocations);
• A minimum of 100 bookings annually.
Majestic Tours was built on superior customer service
Majestic Tours was founded in 1959 by William "Billy" Saunders and his wife Iris. He built the company instilling in his family and employees his mantra of selling just one thing – "service". Their vision, dedication and that of their staff throughout the years, turned a one-car transportation company into a 70-vehicle fleet ranging from 29 passenger buses to luxury vehicles. Majestic provides premier ground transportation options as well as being a major tour sales agent for the country, with locations in all major Nassau hotels. The company remains a family-run business and employs over 120 Bahamians. Majestic transported approx. 12,000 passengers for Delta Vacations over the past year.
Delta Vacations, the official vacation provider of Delta Air Lines, offers travel agents convenient, one-stop shopping for vacation packages that bundle Delta flights and its strategic partners – Air France, KLM, Alitalia, Aeromexico and Virgin Atlantic – with stays at more than 4,700 hotels and resorts in more than 300 of the world's top leisure destinations. Delta Vacations also offers rental cars and hundreds of activities, tours and excursions that can be added to vacation packages. Delta Vacations has earned numerous industry awards including Travel Weekly Readers Choice Awards. Delta Vacations is managed by MLT Vacations, a wholly-owned subsidiary of Delta Air Lines.
 Source: Nassau Guardian