Day two sets up young entrepreneurs for final pitches
28 Apr 2017
When the second day of the VYBZING Youth Forum wrapped up on April 27, participants left with a better understanding of the importance of good record-keeping, intellectual property rights and effective branding. The young people, grouped into teams for the event, also learned how to effectively pitch business ideas and concepts in five minutes.
In the pitching exercise, the teams put together marketing plans for businesses and presented them in an open-critique session. Participants received honest input from facilitators, Dr. Jo-anne Tull and Dexter Musgrave, whose insights polished the teams' projects, ahead of day three.
Rupert Gibson, a graphic designer and printer from North Caicos, said he appreciated the information on property rights shared by attorney with Invest Turks and Caicos, Oreika Selver and found advice from facilitators to be sound as he pursues a full fledge business.
"He [Dexter] told us that when you are presenting your ideas or your business plan, you must make it feel real. You are to present it as if you are telling a story and to remember that we are talking to people. Not too many words, get to the point, sell yourself, know your stuff, be convincing and have passion about what you are selling. Passion is a huge plus when you are selling your ideas," said Gibson.
Friday will feature sessions on effective presentation skills, creating project plans, ethics and social responsibility. Participants will make competitive pitches to a panel of judges for a chance to win a lucrative prize. The final-day presenter roster includes John Rutherford, CEO of Invest Turks and Caicos, Sophia Thomas, Director of the Centre for Entrepreneurial Development and Pedro Ariza of the Grand Turk Chamber of Commerce.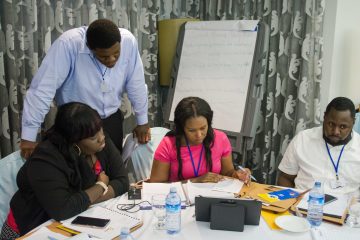 Read the recap of Day One activities
The post Day two sets up young entrepreneurs for final pitches appeared first on Caribbean Development Bank.
Read full article at Caribank